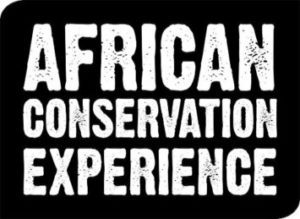 The origins of African Conservation Experience
African Conservation Experience was established in 1999 by Rob and Marion Harris, with the main objectives being to provide enthusiastic people with the opportunity to experience wildlife and conservation in southern Africa; and to finance conservation projects in southern Africa through self funding volunteers. With over 10 years in operation, ACE has established itself as a reputable organiser of conservation placements on projects in southern Africa with over 5000 volunteers having visited more than 15 conservation projects. It is now one of the most experienced UK organisations placing volunteers on conservation projects in southern Africa.
Supporting conservation and giving back to Africa
Supporting conservation is at our core, and our commitment to the local communities and environments we work with is a vital component of what we do. As an organisation we support and sponsor various conservation and community initiatives in southern Africa, part of which as a volunteer you are helping to fund.
Read about our current sponsored conservation and community groups.

Learn More